We help to keep your bike in tip top condition and prevent bikes from going into landfill sites.
Our workshop team of experienced cycle mechanics are here to help you keep your trusty steed in tip top condition
Pre-loved bike sales at our base in Radcliffe, or individual viewings by appointment.
Welcome to the Urban Cycle Centre
The Urban Cycle Centre (UCC) is a sister company to the NCA. It is a non profit making social enterprise, a CIC.
Primarily, the UCC is made up of experienced cycle mechanics and enthusiastic volunteer cyclists, all of whom are passionate about cycling, whether it be MTB, BMX, Road, Commuting – Cycling for leisure, fitness or competition.
Also, since we are a not-for-profit enterprise, you can be assured our charges for bike repair service in Manchester are fair and reasonable.
Our main aim is to keep more bikes on the road and to prevent or reduce the number of old or abandoned bikes from being disposed of via landfill sites.
Apart from our dedicated bike maintenance course, cycle repair service and TLC department for your bike, our team are busily recycling pre-loved and pre-owned bikes,  ready for their new homes. If the donated bikes are beyond rescue, the spares are re-used or made into art projects.
We are constantly researching new and additional methods of re-using these pre-owned bikes in a much more positive way.
Call us on 0161 796 6221 with any enquiries or email workshop@ncagb.co.uk.
"Met up with Simon this morning and we are really made up with our bikes! Brilliant scheme, thanks for all your help"
Based at Outwood Country Park in Radcliffe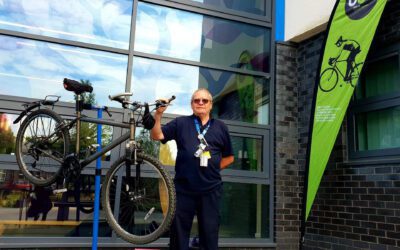 TFGM provided funding for 200 adult pre-loved bikes to be reconditioned and distributed to hospitals across Greater Manchester. Our bike mechanics repaired a wide variety of bikes and a fleet was delivered to each hospital where they were distributed to staff....
Preferred training provider to